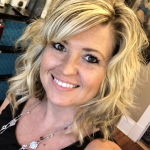 Bio
Cosmetology license – Phillips Hair Styling Institute, Syracuse NY
Certificate from Coppola Keratin Complex
Paul Mitchell Master Colorist
Attended hair shows in Niagara Falls, NYC and Charlotte
I would have to say that I owe special credit to my sister, Bridget, for my pursuit in becoming a hairstylist. While I was in middle school I was often times her 'Guinea pig' on the road to becoming the fantastic stylist she is today. With her as my role model and mentor, it was easy for me to decide that this was a career path that I wanted to take.
At that time, I thought to myself, 'Wow you get to stand around talking to people all day and get paid for it!', that sounded right up my alley. It wasn't until several years down the road that I realized it was so much more than that. Bridget and I opened our salon, Salon 115, in April of 2003 and she is still the styling master there.
Street Cred
It is said that 'a hairstylist touches more hearts than hair'. I quickly learned there is nothing more fulfilling in life than knowing that I get to make people feel better about themselves, all day long. A hairstylist is… a best friend, a counselor, an adviser, a confidant, an image consultant, a magician and so much more. I truly couldn't imagine doing any other profession.
I moved to Greensboro, NC in September of 2011 from Fulton, NY and it was the best decision of my life. I immediately immersed myself into young professionals groups such as the Greensboro Jaycees and SynerG to learn about the city and do some serious networking. It was just over two years later I was able to become a business owner, once again, with the Grand Opening of Swanky Bubbles Salon in December 2013.
If you would like to know more, come on in and we can get to know each other while I give you a fabulous new look or enhance your current style.
– Melissa