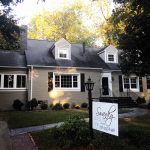 Located just north of downtown Greensboro on Virginia Street in historic Fisher Park, you'll find
Swanky Bubbles, a quaint boutique hair salon.
The Owner, Melissa Killian, has over 18 years of experience and can guide you in finding the right style and color perfectly suited for you. Swanky Bubbles Salon combines Melissa's New York aesthetic with small town North Carolina charm.
Call today for an appointment to get the Swanky Bubbles treatment.
336-355-8448